In the late autumn when fruits and melons are fragrant and fruitful, the company welcomes another great news: it has won the title of "gold supplier" of Hubei sanning Chemical Co., Ltd.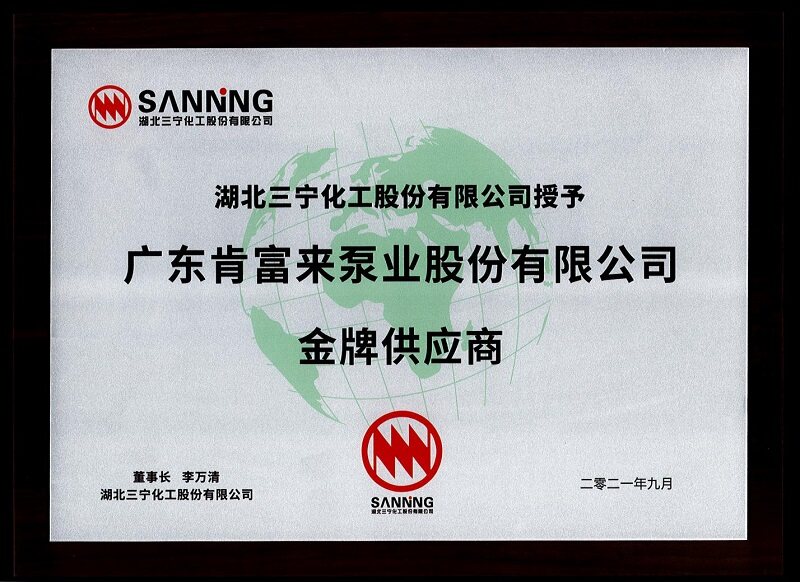 Gold medal has always been synonymous with sweat and strength. The joy of harvest is always inseparable from hard work, which is not only the result of the strong support of the company's leaders and all colleagues, but also the crystallization of the good performance of kenfulai's products.
Hubei is a land of fish and rice and a province of thousands of lakes. It not only has beautiful rivers and mountains, but also breeds a large number of excellent enterprises. Founded in 1970, Hubei sanning Chemical Co., Ltd. (hereinafter referred to as sanning chemical) is a national high-tech enterprise, one of the top 100 chemical enterprises in China and one of the top 50 chemical fertilizer enterprises in China. For a long time, kfl has established a good cooperative relationship with sanning chemical industry. Kfl has deep cooperation in many projects, such as 120000 ton caprolactam circulating water station, water intake pump station of nitrogen fertilizer plant, circulating water pump transformation project of phosphate fertilizer plant, 600000 ton ethylene glycol project and 70000 ton PC project. With high-quality products and thoughtful and timely after-sales service, kfl has won unanimous praise from all parties of sanning chemical industry and gradually established a good cooperative partnership, Not only signed the framework purchase agreement of circulating water pump with sanning chemical, but also exchanged the intention of framework purchase agreement of chemical pump and vacuum pump unit.

The Three Gorges gateway is a beautiful Yichang with outstanding people and rich minerals. Sanning chemical is a good start for KENFLO company in phosphorus chemical enterprises. Taking this as the core point, KENFLO will continue to radiate, so that KENFLO can become a "gold medal supplier" for more excellent enterprises and make kenfulai brand more and more famous in various industries.